Ayesha Takia

Ayesha Takia Before and after pictures of Ayesha Takia's boobs made us believe that the actress underwent a boob surgery. All of a sudden, the actress was spotted with breasts which appeared heavier and bigger significantly.
Sridevi
Sridevi is one of the actresses who is aging gracefully. News of asset enhancement made by Sridevi made news as she was one among the role models in Bollywood then.
Mallika Sherawat

Mallika Sherawat's boob job had become quite a breaking news for some time. The actress, however, admitted that she underwent a breast implant surgery along with a lip job and a nose job. After the actress got the surgery done, she could not control showing off her sexy cleavage.
Sushmita Sen
Sushmita Sen is the first Bollywood actress who dared to undergo a breast implant surgery at the early age of 20. She got silicone implants some 8-10 years back.
Poonam Pandey

Poonam Pandey There have been a lot of talks about the controversial queen of Bollywood, Poonam Pandey having undergone a breast implant surgery. The actress denied the reports, but a drastic change in the appearance of her breasts made us believe so.
Shilpa Shetty
Shilpa Shetty One among the desi divas who went through a hell lot of surgeries is Shilpa Shetty. From a nose job to other plastic surgeries, it comes as no surprise when headlines of her boob job made news.
Bipasha Basu
Bipasha Basu Enjoying her married life lately, Bipasha Basu comes next in the list. Bipasha underwent a boob job done way back in 2004. The actress underwent the surgery to look more irresistible.
Kangana Ranaut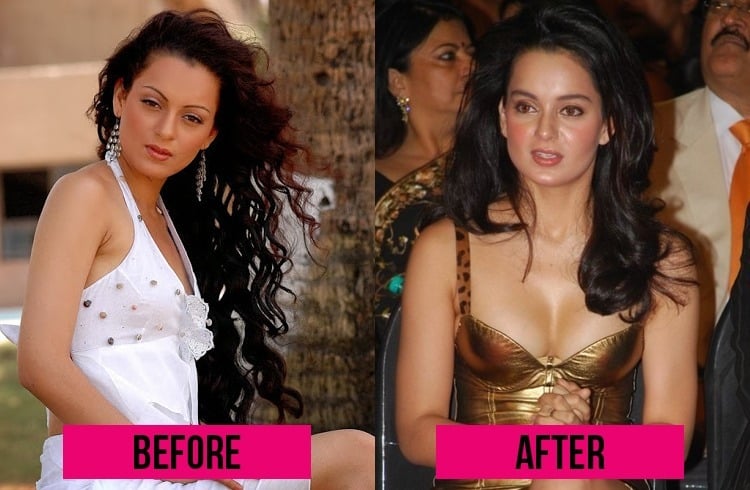 Kangana Ranaut might have been a stunner but she was criticised for 'no breasts'. A few years later, Kangana was spotted walking the red carpet with large breasts which made us conclude that the "Fashion" actress had got silicone implants.
Rakhi Sawant
Rakhi Sawant Recently in the news for wearing a Modi dress, Rakhi Sawant never fails to grab media attention. The actress admitted to getting silicone implants while she was at the peak of her career, working as an item girl. She has got ridden of the silicones due to severe health issues.